NOONBARRA JILLAROO
Noonbarra Prince X Noonbarra Valerie
---
Red & Tan.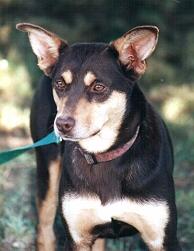 Born: November 1999.
Jill has now been sold to a young Stud in the Snowy Mountains.
Noonbarra Jillaroo is an outgoing, very friendly Kelpie that is just as much at home working in the stockyards as mustering a mob or working a few sheep with precision. She is extremely keen, fast and agile. She has the strength we always like to see in our dogs and is definitely never a dog to give up no matter how tired she is.
She is a good dog indoors and when away travelling and enjoys the company of people. She also shows some pretty eye and style when working on a few sheep but prefers to use more force on a large mob and shows very little eye in that situation.
She did some very nice work in the yards and could back with ease. Plenty of strength there too but she wasn't an aggressive dog on stock.
Noonbarra Jillaroo bred well for our Stud and was mated to Noonbarra Dan IV in 2002 and one of the pups from this litter was Noonbarra Amy who has been kept in the Noonbarra Stud as a Stud breeding bitch. In 2003 we bred her again to Noonbarra Dan IV and once again we got some superb pups including Noonbarra Ben V, who was earmarked as a future sire.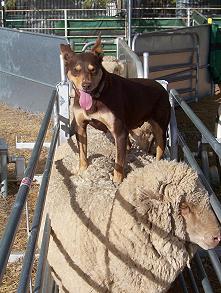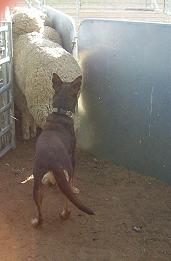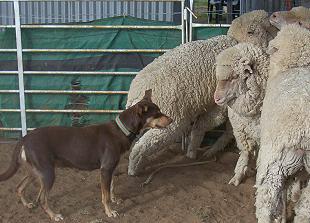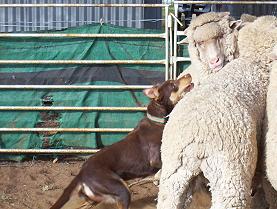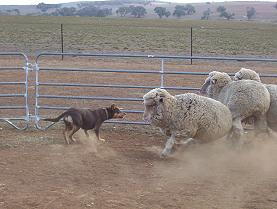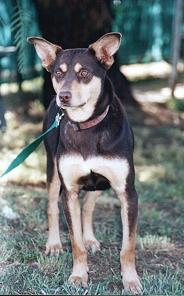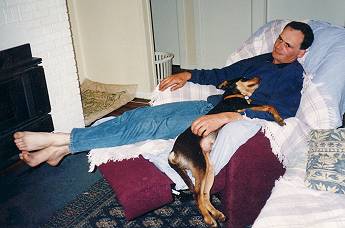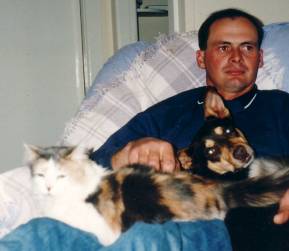 Darren works his dogs hard but knows a good relationship with his dogs is important. So when he puts his feet up in front of a warm fire, Jillaroo gets the best seat in the house right next to the cat on Darren's knee!
---
Red & Tan Female. Born: 7th December 2001
Sire: NOONBARRA DUSTY (NOONBARRA PRINCE X NOONBARRA JUDY)
Dam: NOONBARRA LUCY (NOONBARRA GABE X NOONBARRA VICKY)
Darren Lackersteen owns Noonbarra Emma and has just recently also purchased Noonbarra Jillaroo as an adult to help him work the sheep and cattle on a property he manages in the Snowy Mountains.
Emma is a gentle natured fairly big female red and tan coloured Kelpie. She was sold as a started Kelpie. Emma has a great personality and loves people. Outgoing and very friendly as well as faithful nature. She's always a cheerful dog and still has that puppy playful nature about her. She relates very well to people and has been in the house on a number of occasions and behaves well. Emma is quite biddable and likes to do the right thing.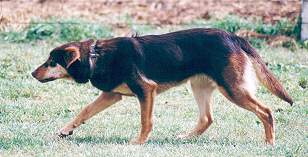 She's very keen to work and shows a lot of natural inherited ability. Very quick to get around sheep and excellent balance on a mob. Has the power to move any stock and would probably be good on cattle as well. Gives the occasional bark to turn sheep. She was not a polished worker at the time of sale but was coming along well. She was still a bit immature and could be a bit pushy on sheep at this stage in her training but showed enormous potential and would be a real asset on a working property as she matures.
Her paddock work was already very good with wonderful mob balance but at this age she was still a bit tight and pushy on the sheep. She will probably have a slight leaning towards yard work and judging by her sire should excel in that department in the next few months. She is backing well and has that wonderful characteristic of not always confronting sheep in the race which means the sheep fill up the race nice and tight. She was improving all the time. She would already back when the sheep get locked into a corner or on the fenceline.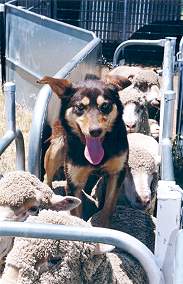 She has a pretty face and is strong and good leg. Has ears go up and down. Doesn't make any difference to us but seems to be important to some customers that want their working dogs to look like show dogs.
Like all of our dogs she has plenty of strength on sheep but can also show some nice style when working too. Usually first approaches the sheep with eye. Nothing much bothers her and she is showing extra good potential in the yards and on the backs of sheep as well as her paddock work. She is even jumping up on the backs when the sheep are stuck in a corner of the yard.
Darren writes; "Just a quick note about Jill she is settling in great. She reckons our lounge is better than her kennel! She has just enough confidence to start playing with me now.
"I have worked her on 5 sheep the last 2 days in a small paddock and she loves it. I then put her in the yards and she ran them up the race with no trouble at all. She backed the last one quickly but was hesitant about going further, I then let Emma off and she went up and to the front very quickly Jill the followed without hesitation and is now comfortable on top and coming through with more confidence all the time."
I have weather drenching (4000) in 2 weeks, it should be great fun to have both dogs to use in the yards.
Hope all is well!! - Darren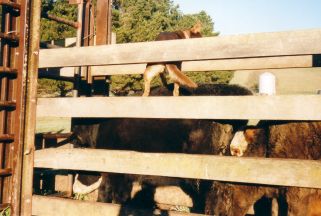 Noonbarra Emma amazingly is able to back Cattle in a race
Hi Mary and Stephen.
Hi, From the now drought ravaged Monaro. We are really starting to feel the pinch now with 730 cows and calves and 6400 sheep on feed. Very busy at the moment.
I have just finished the drenching with Emma of around 6000 wethers, whilst now looking for a break Emma went tremendous. She has a love for backing sheep up the race even when she is very tired there is no stopping her.
I am very happy with her, and have now kept 12 wooly sheep around the house for a quick run of a afternoon if I get home before dark. Emma is now comfortably holding a dozen sheep in the paddock very comfortably whilst giving a bark as she heads off any breakaways.
In Cooma on the 8th of March there is a yard dog trial and I am thinking of having a go. Where would I get more information on rules etc. Neil Lynch is the contact. Hope all is well up there and rain is close.
Many thanks. David Lackersteen.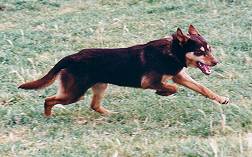 Noonbarra Emma before being sold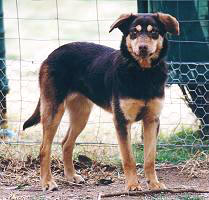 Noonbarra Emma at Noonbarra before being sold